James Corden pranks David Beckham with hideous fake statue before real one is unveiled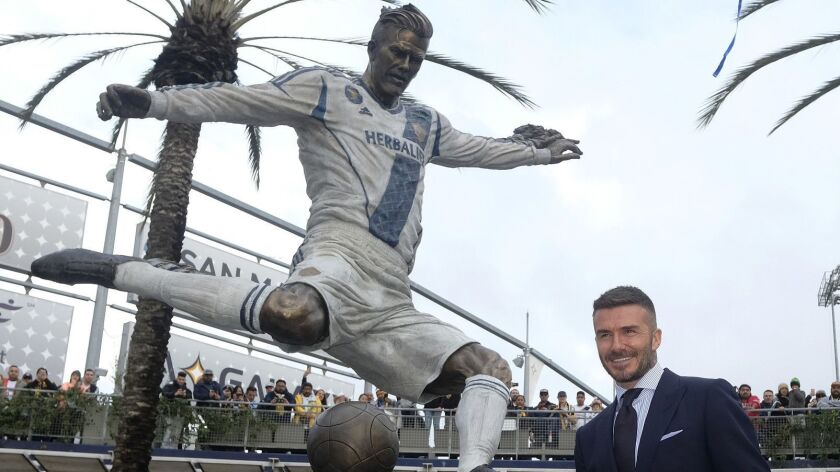 David Beckham is the latest soccer player to have his image immortalized, after the Galaxy recently unveiled a statue of their former player in front of Dignity Health Sports Park in Carson.
In the recent past, the likenesses of soccer stars Cristiano Ronaldo, Brandi Chastain and Mohamed Saleh weren't quite nailed by their sculptors, and the results were unintentionally hilarious. So if anyone — perhaps a late-night talk show host? — had wanted to prank Beckham with a fake statue before the unveiling of the real one, there would be a pretty good chance he would fall for it.
Turns out, James Corden and his crew were more than up to the task of pranking his friend Beckham, as this segment from "The Late Late Show With James Corden" shows.
The prank was an elaborate one, two months in the making. Beckham arrived at the stadium days before the official unveiling to view what he thought was his actual statue during a private ceremony that featured actors pretending to be annoying fans and a highlight video that included some lowlights as well.
Finally, actor Maz Jobrani — who was impersonating sculptor Omri Amrany, a man Beckham had met once before — unveiled a monstrosity with a giant chin, enormous butt, hideous teeth, eyes going in different directions and ridiculously long arms.
It, of course, bore no resemblance to the real-life Beckham, aside for the nice hair and Galaxy jersey. But Beckham fell for it. He never raised his voice or became rude, but the international superstar was visibly upset as he made his objections known:
"It's slightly different than what it was when I saw it in Chicago though."
"Doesn't really look anything like me though. Look at my eyes."
"The only thing that's good is the hair and that's about it."
Sign up for our daily sports newsletter »
"Look at my bum. Look at my ass. … It definitely doesn't look like that."
"I really don't see how this can go out."
"I mean, look how long my arms are. I honestly look like Stretch Armstrong."
"My wife's coming over. It's lucky my kids aren't coming over because if my kids were to see this … honestly, I don't want to offend you in any way, but this is such a big thing for me."
"There's no way that can go in front of the stadium. It's embarrassing."
After several minutes, Corden finally let the poor guy off the hook, running into the room after a forklift came in and destroyed the faux statue. A relieved Beckham uttered a few curse words but embraced his buddy Corden and got a good laugh out of the stunt.
The real statue was unveiled days later, and Beckham looked pleased with the result.
Twitter: @chewkiii
---