San Marcos —
At a Mission Hills High basketball game last season, Adam Barraza approached a reporter and introduced himself, saying, "I run this school."
Grizzlies football coach Chris Hauser, who keeps the clock at Mission Hills basketball games, chuckled and said, "He's telling the truth."
No question, the Barraza brothers — senior twins Adam and Bryan and sophomore Nathan — are a big part of Mission Hills.
All play football and baseball, and Bryan also plays basketball.
Football is where they stand out for No. 1-ranked Mission Hills (10-0), which hosts Grossmont tonight in the San Diego Section Open Division quarterfinals.
Adam is senior class president. Bryan is senior class treasurer.
Both are involved in ASB. Both also help run pep rallies. Bryan started a ping-pong club. Adam reads the morning announcements, closing every day with "That's the way it is."
"Adam has a big personality," Hauser said. "He's huge on campus."
The 6-foot, 220-pound Bryan plays fullback and middle linebacker.
The 5-11, 190-pound Adam is a safety and the team's backup quarterback.
Nathan stands 6-1, weighs 190 and plays free safety. He's also the team's punter.
Bryan said the brothers' passion for sports was passed down from older brother Nolan, who played football and baseball at Mission Hills, then played baseball at Palomar College and Hawaii Pacific.
"I can't tell you what a joy it is to be on the same field with my brothers," Adam said. "It's fun for Bryan and I to play the role of big brother and advise Nathan."
But this season almost didn't come together for the Barraza brothers.
Bryan had shoulder surgery at the end of last season, forcing him to miss all but the last couple weeks of baseball season.
Adam had foot surgery, missed all of baseball season and wasn't cleared to resume football activities until after the start of fall practice. Then he was limited through the season's first three games.
"I knew I'd be back, but I was a little concerned," Adam said. "The foot just took a long time to heal. It was tough to sit and watch.
"Getting back on the field was huge for me."
Leaving the field is a big deal for Bryan.
He's a key part of a stingy defense and does the dirty work of playing fullback on offense.
"Fullback is a very selfless position," Bryan said. "We're old school at Mission Hills. We run the ball to pass.
"My job is to open holes for the running backs — Damon Wigand and Sam Dixon — on running plays and to pick up blitzers and make sure Jack (Tuttle, the Grizzlies' quarterback) has time to get the ball to (Chris) Olave.
"And, oh, yeah, once in a while I even get to touch the ball. Actually got eight touches against La Costa Canyon."
Bryan has been accepted at Stanford as a preferred walk-on. Cost, however, might be a factor.
"Not many colleges play with a fullback," Bryan said. "San Diego State and Stanford are really the only two on the West Coast. So we'll see what happens."
Adam, who wants to get into broadcasting, law or aviation, has narrowed his college choices to his "dream schools" — UC San Diego, San Diego State and UCLA.
Nathan, who starred on the baseball team last spring while his bothers were injured, said it's way too early to think about college.
"It has been crazy playing with my brothers, people I look up to," Nathan said. "Seeing them lead this team is special.
"Playing with them is a once-in-a-lifetime experience, something we cherish."
The brothers should all play baseball — Nathan is a middle infielder, Adam is a catcher and Bryan is a first baseman, who says his best position is "hitter."
"The Barrazas are a wonderful family," Hauser said. "Their parents — Caesar and Julie — have done a great job raising them.
"Those kids are the complete package."
And that's the way it is.
john.maffei@sduniontribune.com
FOOTBALL
John Maffei's prep football playoff predictions
Ahora
Boys basketball: Hilltop H.S. at Castle Park H.S. - January 27th 2017
1:28
Ahora
Girls water polo: Ramona H.S. at Granite Hills H.S.
1:17
Ahora
Boys basketball: Saint Augustine H.S. at Cathedral Catholic H.S.
1:33
Ahora
Girls water polo: La Jolla H.S. at Cathedral Catholic H.S.
1:14
Ahora
San Diego Prep Insider : Five questions with Anthony Sola and Ace Roach
2:39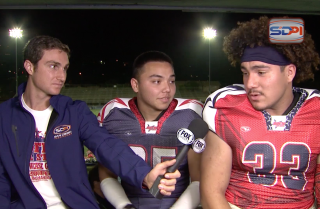 Ahora
San Diego Prep Insider : Five questions with Noah Lacsina and Joey Morones
2:11
Ahora
San Diego Prep Insider : Five questions with Charles Dudley
2:04
Ahora
San Diego Prep Insider : Five questions with D.J. Wilson
1:43
Ahora
Girls water polo: Classical Academy vs Escondido
1:01
Ahora
Girls water polo: Mater Dei Catholic vs Clairemont
0:59
---