MUJERES: El 8 de marzo: un día de lucha por la igualdad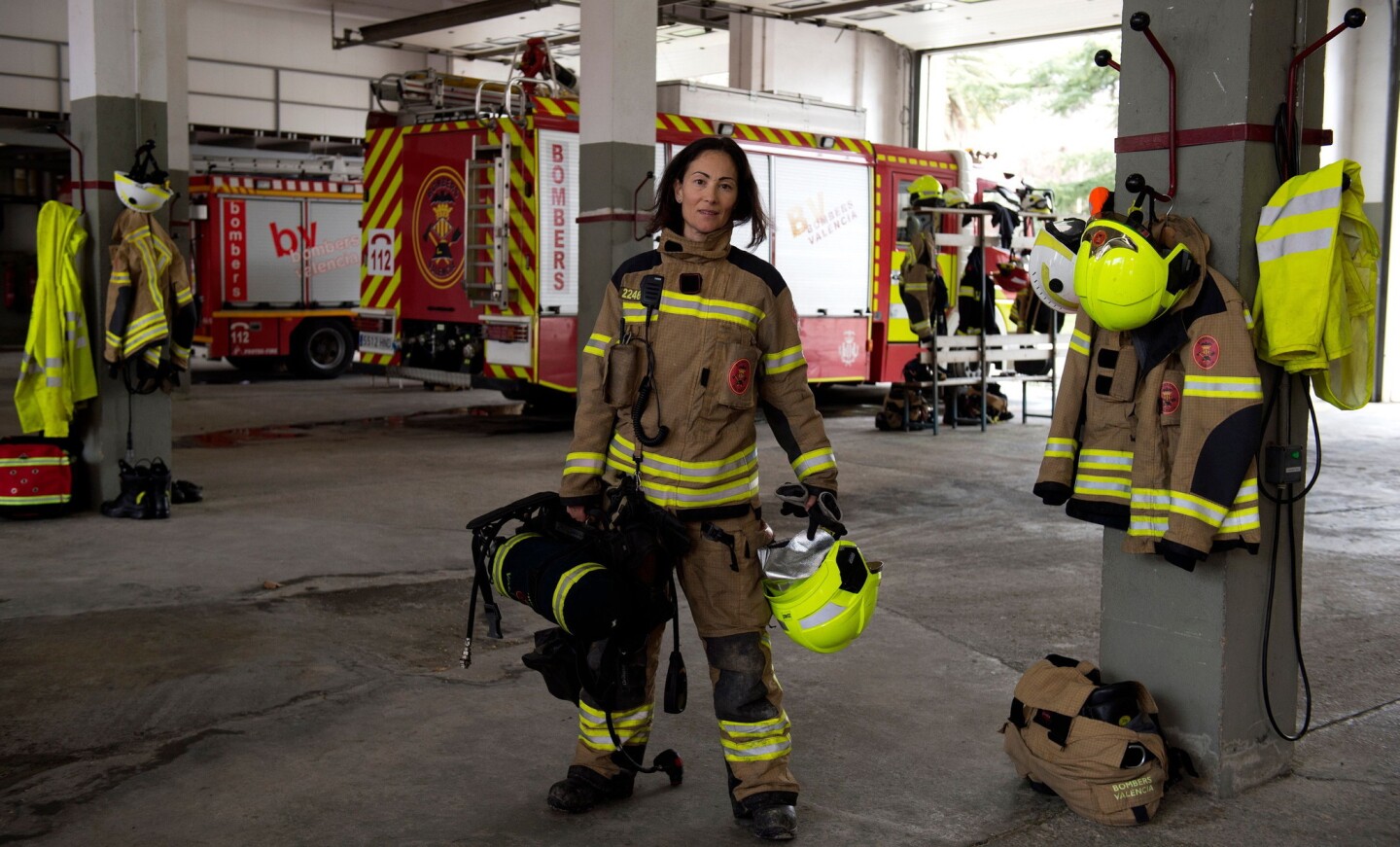 To mark the occasion of International Women's Day on March 8, 2018 AFP presents a series of 45 photos depicting women performing roles or working in professions more traditionally held by men. More images can be found in www.afpforum.com Search SLUG "WOMEN-DAY -PACKAGE". Maria Jose Martienz Ortiz, 43, Spanish firefighter poses for a picture in the 'Fuente San Luis' fire station facilities in Valencia on February 28, 2018. In the ring, battling flames or lifting off into space, women have entered professions generally considered as men's jobs. For International Women's Day, AFP met with women breaking down the barriers of gender-bias in the work world. / AFP PHOTO / JOSE JORDAN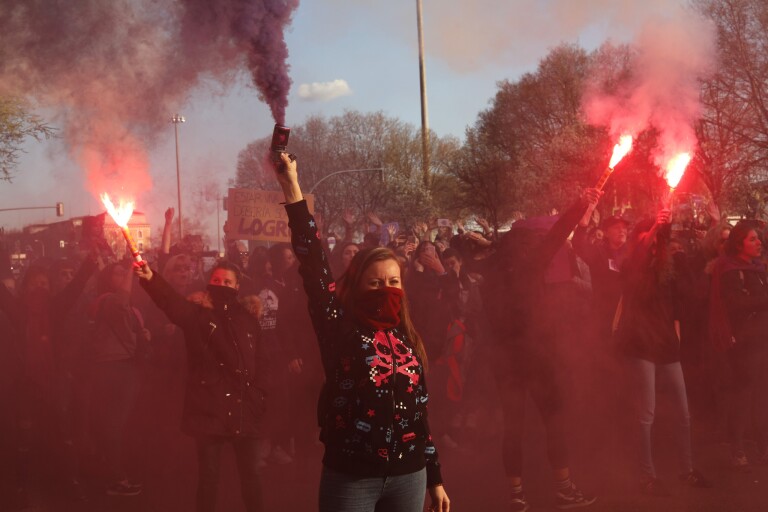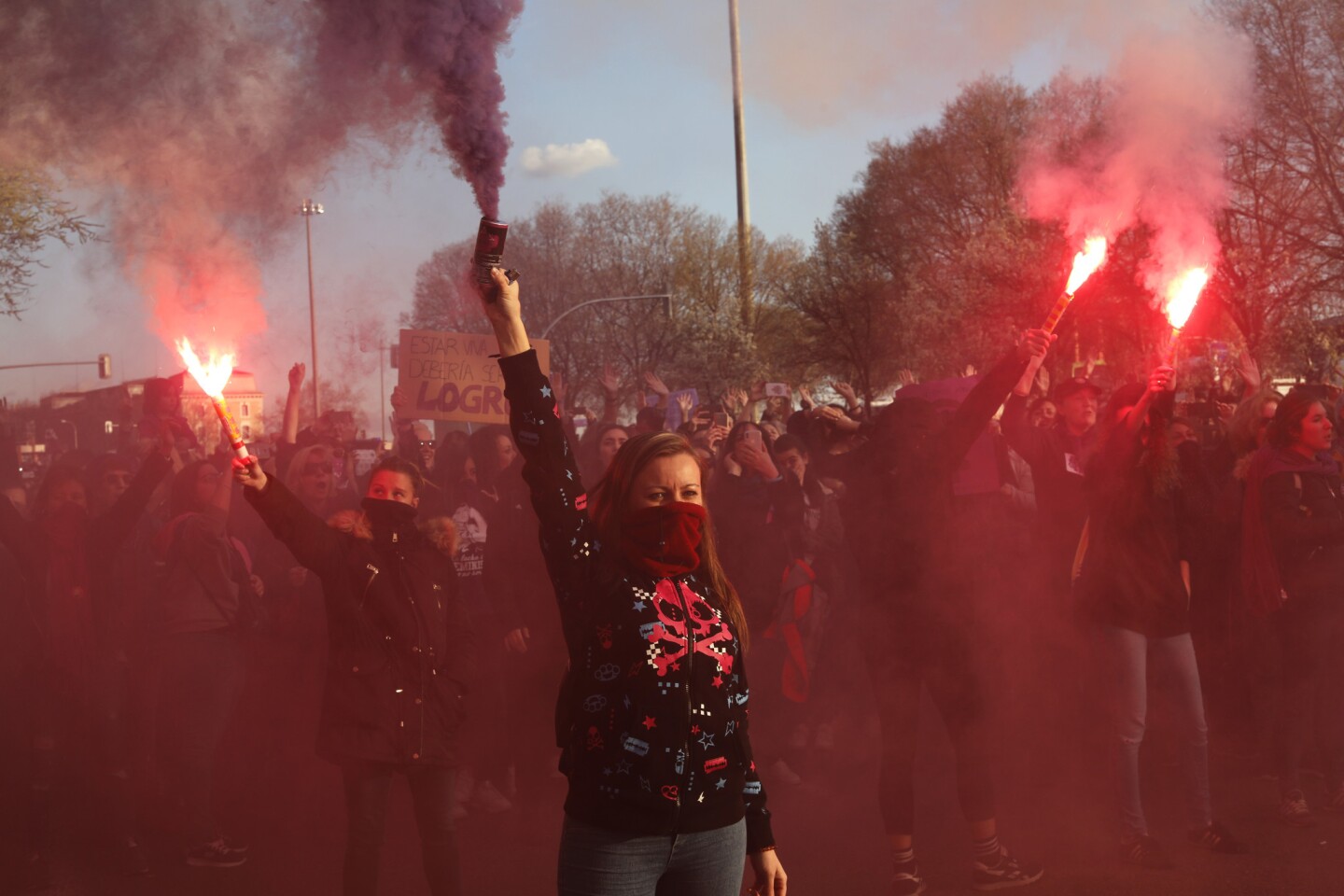 Women march holding flares during the International Women's Day in Madrid, Spain, Friday, March 8, 2019. Marches and protests are held Friday across the globe to mark International Women's Day under the slogan #BalanceforBetter, with calls for a more gender-balanced world. The day, sponsored by the United Nations since 1975, celebrates women's achievements and aims to further their rights. Thousands of women walked off the job in Spain, joining millions more around the world demanding equality amid a persistent salary gap, violence and widespread inequality. (AP Photo/Bernat Armangue)
An activist wearing logos of international brands poses during a women's demonstration held to mark the International Women's Day, at Place de la Republique in Paris, on March 8, 2019. (Photo by Alain JOCARD / AFP)ALAIN JOCARD/AFP/Getty Images
A woman holds a sign reading "I march to be able to walk safely" during a march on the International Women's Day in San Salvador, on March 8, 2019. (Photo by MARVIN RECINOS / AFP)MARVIN RECINOS/AFP/Getty Images
An Indonesian woman labourer gets loaded up as she carries goods and gets paid 3.50 USD a day at a market in Surabaya on March 8, 2019, as the country mark International Women's Day. - Hundreds of activists marched to the Presidential Palace in Jakarta with banners and placards calling for more equality for Indonesian women. (Photo by Juni Kriswanto / AFP)JUNI KRISWANTO/AFP/Getty Images
Indian students pose with their faces painted on the occasion of International Women's Day celebration at a college in Chennai on March 8, 2019. (Photo by ARUN SANKAR / AFP)ARUN SANKAR/AFP/Getty Images
A woman holds a placard reading "Don't tell me how to dress, tell them not to rape" during a women's demonstration held to mark the International Women's Day, in Paris, on March 8, 2019. (Photo by Alain JOCARD / AFP)ALAIN JOCARD/AFP/Getty Images
Student protesters hold signs including "On my way back home, I want to be free, not brave" and "With or without clothes, my body cannot be touched" during a demonstration marking International Women's Day in Barcelona on March 8, 2019. - Unions, feminist associations and left-wing parties have called for a work stoppage for two hours on March 8, hoping to recreate the strike and mass protests seen nationwide to mark the same day in 2018. (Photo by LLUIS GENE / AFP)LLUIS GENE/AFP/Getty Images
A Pakistani woman takes part in rally during the International Women's Day in Islamabad, Pakistan, Friday, March 8, 2019. Pakistani women mark the International Women's Day across the country against wage gap and gender violence. (AP Photo/B.K. Bangash)
A woman stands with a placard during a woman's protest event for International Women's Day, in Dublin city centre, Ireland, Friday March 8, 2019. (Brian Lawless/PA via AP)
A woman takes part in a demonstration for the elimination of violence against women in Guatemala City on November 26th, 2007, in the framework of the international campaign "16 Days of Activism Against Gender Violence", which runs from November 25th to December 10th. According to the United Nations, at least two women are brutally beaten each day in Guatemala, while 48 others are attacked in some way or another. From the 3.281 murder cases of women perpetrated in Guatemala between 2000 and 2007, only 2 percent were solved. AFP PHOTO/Orlando SIERRA (Photo credit should read ORLANDO SIERRA/AFP/Getty Images) ORG XMIT:
Con el tiempo, las historias tienden a 'suavizarse', a convertirse en motivos de celebración y elogios. Y no está mal, porque, como en el caso del Día Internacional de la Mujer, es importante una y otra vez, recordar, recalcar la desigualdad que persiste entre un género y otro.
La historia de este día no es de color rosa, sino de lucha por la igualdad, por los salarios, por las condiciones de trabajo.
Los antecedentes de esta celebración se remontan al 25 de marzo de 1911, cuando un incendio en una fábrica de ropa de Nueva York causó la muerte de 146 mujeres, debido a que los dueños encerraban a las trabajadoras durante la jornada laboral para, según ellos, evitar los robos. Cuando ocurrió el incendio no pudieron escapar y murieron,
En los días siguientes sus restos fueron colocados en la calle y miles de personas marcharon para expresar su respeto e indignación.
Mientras eso ocurría en Estados Unidos, en la otra parte del mundo se llevaba a cabo una marcha demandando el voto femenino en Dinamarca, Alemania, Austria y Suiza.
En 1975 la Organización de las Naciones Unidas realizó la Conferencia sobre la Mujer en la Ciudad de México, en ella se le recordó a los representantes del mundo que la discriminación de género era algo persistente y se debía hacer algo al respecto.
En 1977 la ONU declaró el 8 de marzo como Día Internacional por los Derechos de la Mujer y la Paz Internacional.
Así que en este Día un reconocimiento a todas las mujeres que han colocado su grano de arena para hacer de este mundo un mejor lugar para todos.
* Con información de servicios de cables
---