About 200 gather to remember more than 1,400 of Los Angeles County's unclaimed dead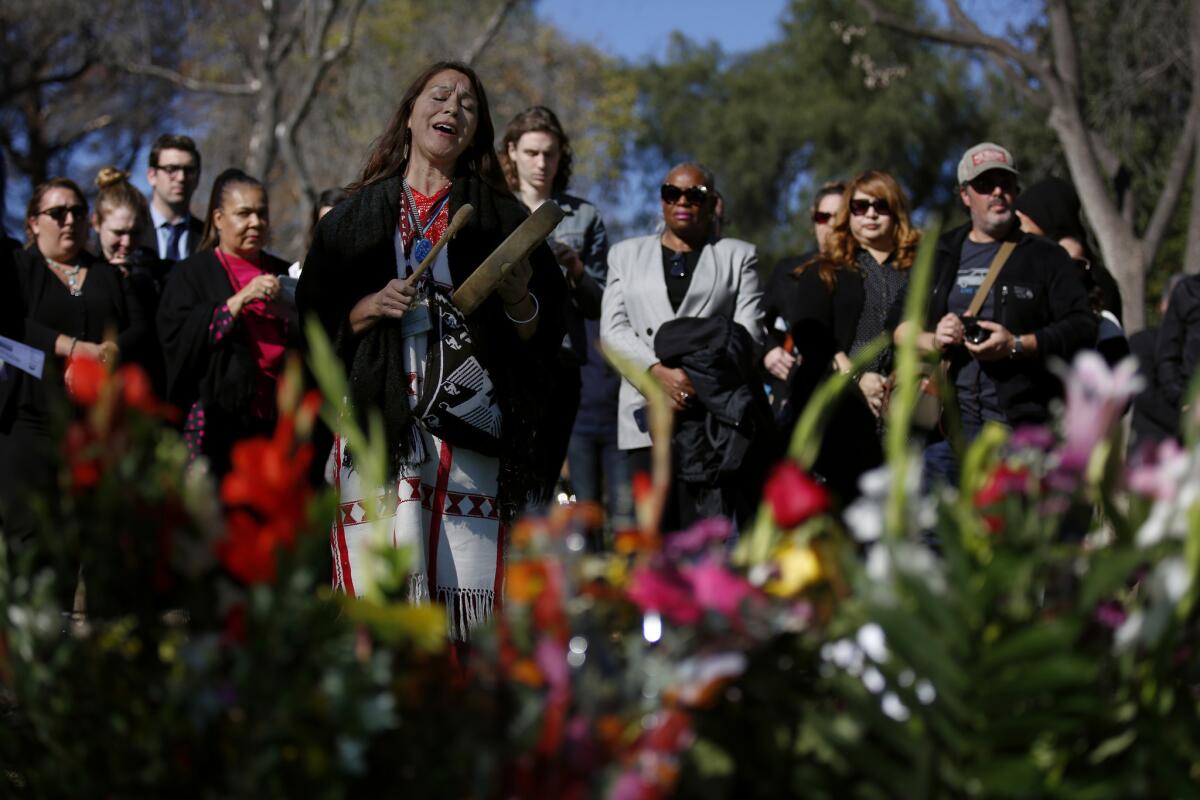 About 200 people streamed down a small hill in Boyle Heights on Wednesday to mourn more than 1,400 of Los Angeles County's unclaimed dead.
Each year the county buries the cremated remains of those left at the cemetery for more than two years.
"To think 1,400 can go unclaimed is mind-boggling," said Rita Hall, who attended the event. "Nobody misses you or searches for you, that's sad."
This year more than 900 of those buried were men. About 400 were women. More than 120 were babies.
The large crowd circled a single mass gravesite above the intersection of 1st and Lorena streets. Teal sheets surrounded the fresh earth and flowers stood at one end like the headboard of a bed. Nearby, other communal graves were marked by a simple plaque, about the size of a hand, that was engraved with their year of their cremation.
Some graves are decorated with flowers; others with colorful glass stones and toys. Families add these ornaments after learning that their loved ones are buried in a mass grave at the cemetery.
Brihanna Adkins was buried this year. She was 10 months and 26 days old when she died of a methadone overdose. Her death was ruled a homicide. There's also Isaiah Dean, only 1 month and 13 days, when he died of diarrhea in a hospital. Terrance McKenna died at 45 of an overdose in a stairwell. Joseph Gerber, 26, hanged himself in jail in July 2013. The list goes on.
The county has buried its indigent dead since 1896.
Albert Gaskin, a cemetery caretaker, said that one woman comes to the cemetery once a month to decorate a plot with flowers. Toy trucks stand over another plot. Gaskin says a family began placing toys on the plot after finding out that children were buried there.
Before the start of the ceremony, Gaskin stepped forward to place flowers on the grave. Music and the odor of incense filled the air as the ceremony began.
"We gather to honor, to pause, to be still, to sing," Father Chris Ponnet said. "We pause in this sacred space." Following Ponnet's remarks, various interfaith spiritual leaders took time to honor the dead. There was a Jewish and Christian prayer, Hindu and Buddhist chant, Native blessing and a reading of Maya Angelou's "Still I Rise."
"We're not religious people," Abraham Kinney said. "We come to pay respects to people who might've been forgotten and give one last goodbye to people who've fallen through the cracks." Kinney, who attended last year's ceremony, plans to make the event a yearly tradition for his family, including his 2 1/2-year-old daughter, Simone. "We want to teach her at an early age to respect human lives," he said.
After planning to attend the event for the last seven years, Gordon Dawson finally attended the ceremony for the first time Wednesday. "When you get to my age, you know there's a window that's closing," he said. Dawson, 67, is studying to become an alcohol and drug counselor. "I also do a lot of hiking with the Griffith Park Rangers and they believe in not leaving anyone behind. We all have value."
Retiring County Supervisor Don Knabe has attended the ceremony the last 20 years.
"I think here you get a sense of family," he said. "The fact is that these people have taken the time to be here to celebrate these individuals who have no one."
Times reporter Maloy Moore contributed to this report.