Jackie Goldberg has strong lead in early returns to fill key L.A. school board seat
Jackie Goldberg, who served two terms on the Los Angeles school board decades ago, was making a strong bid Tuesday to return to that role in a pivotal special election.
With all precincts reporting at 11:20 p.m., Goldberg, 74, was the leading vote-getter with over 48% of all votes cast — far ahead of nine other candidates on the ballot. Yet to be counted are later-arriving mail-in ballots and provisional ballots — for which the voter's eligibility must be verified.
Still, it seems unlikely that Goldberg will win a majority of all votes cast, which means she'll face a runoff with the second-place finisher.
Goldberg said her strong showing symbolized a growing push to bring needed resources to schools.
"This is ... part and parcel of a movement across the country that said it's time we paid more attention to the children of our nation," Goldberg said. "And that it is time that we invest in their education."
The election was called to fill a seat left vacant last July, when Ref Rodriguez resigned after pleading guilty to breaking campaign finance laws.
The significance of a potential Goldberg win is evident in a comparison with Rodriguez. He co-founded a charter-school organization. Goldberg is critical of charters, which are privately operated and compete with district-run schools for students.
Rodriguez was part of a 4-3 majority that voted to begin contract negotiations last year to hire businessman Austin Beutner as superintendent. Goldberg opposed Beutner's hiring, saying the board should have chosen an educator.
Over the last two years, the board has been split over key issues.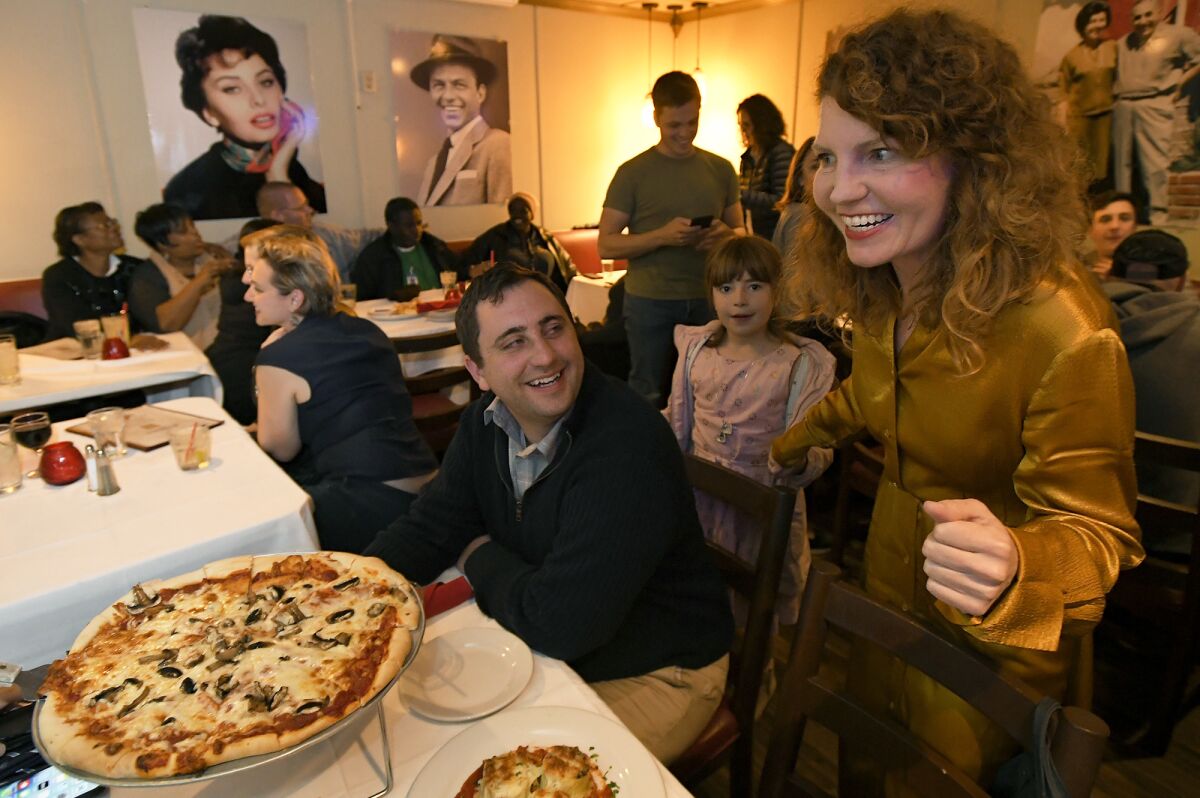 The second-place spot was nearly a dead heat between Graciela Ortiz (13.3%) and Heather Repenning (13.1.%). They were separated by 53 votes. Next was Cynthia Gonzalez, with just over 9% of the vote.
District 5 includes neighborhoods north of downtown and cuts a narrow path east of downtown to the cities of southeast L.A. County.
The ultimate winner will join a board that is grappling with how to work with and respond to the growing number of charter schools. Board members also have to address low achievement and declining enrollment as well as serious long-term financial challenges.
Based on fundraising and endorsements, five candidates appeared to have the best shot, and this was reflected in the order of finish:
Goldberg, a former school board member and teacher backed by the L.A. teachers union.
Ortiz, a school counselor and member of the Huntington Park City Council.
Repenning, a longtime senior aide to Mayor Eric Garcetti supported by him and by Local 99 of the Service Employees International Union — which represents most non-teaching district employees.
Gonzalez, a principal endorsed by the Los Angeles Times and by the administrators union, which also endorsed Goldberg.
Allison Bajracharya, who left her post as a charter school executive to run for office. She had just under 6% of the vote.
A victory for Goldberg could tilt the direction of the school board toward policies favored by United Teachers Los Angeles, which led a six-day strike in January. The teachers union's goals include capping the number of charter schools, most of which are nonunion. The union also is pushing for more regulation of charters.
Headway was made on that second goal Tuesday in Sacramento when Gov. Gavin Newsom signed a law requiring charters to follow state rules on holding open meetings and providing public records.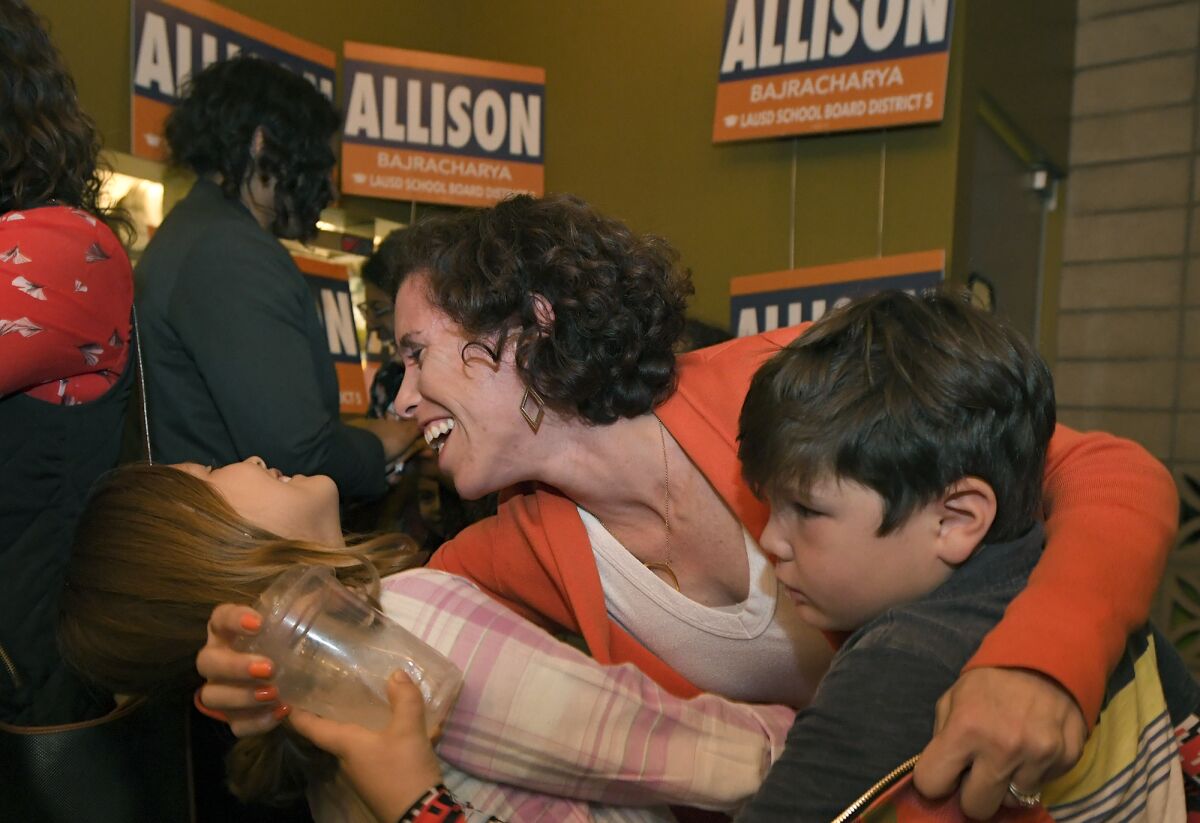 Critics accuse charters of undermining traditional campuses; supporters say charters provide healthy competition. L.A. has more charter schools than any other district in the nation. About one in five L.A. public school students are enrolled in charter schools.
Among those vying for the seat, Goldberg is probably the most critical of charters.
In the last school board election, candidates backed by charter-school supporters won their first-ever majority in L.A. Unified. Rodriguez was part of that majority.
Rodriguez pleaded guilty in July to a felony count of conspiracy and admitted that he was part of a scheme to conceal that he was the true source of early donations to his campaign. He was sentenced to three years' probation and 60 days of community service.
Charter supporters have been the biggest spenders in recent board contests, but not in this primary. Local 99 spent the most — nearly $1 million in support of Repenning. The teachers union was next, spending more than $640,000 to back Goldberg.
The other candidates for the seat were Bell City Councilman Nestor Enrique Valencia, college instructors Ana Cubas and Salvador "Chamba" Sanchez, and former county Arts Commission member David Valdez. Rocio Rivas appeared on the ballot, but she announced this week that she was dropping out and endorsing Goldberg.
Meet the candidates running for District 5 of the L.A. school board.
Twitter: @howardblume