Recipe: Pumpkin pie ice cream with pecan praline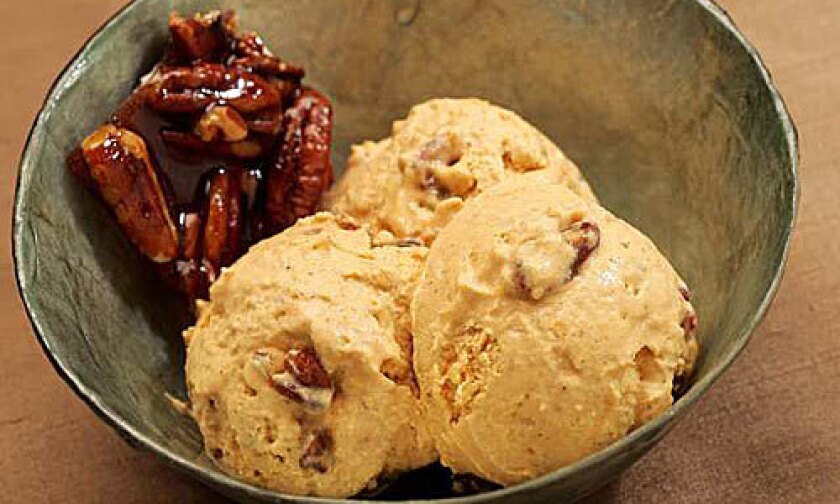 Total time: 25 minutes, plus freezing time
Servings: 6 to 8
---
Our recipes, your kitchen: If you try this or any other recipe from the L.A. Times Test Kitchen, please share it with us: Click here to upload pictures of the finished dish.
---
1/2 cup sugar
1 cup toasted pecan pieces
1 (15-ounce) can pumpkin puree
2 cups heavy cream
5 tablespoons dark brown sugar
2 tablespoons sugar
1/8 teaspoon grated nutmeg
1/2 teaspoon ground cinnamon
3/4 teaspoon powdered ginger
1/8 teaspoon ground cloves
Pinch of salt
1. Line a (16- by 12-inch) jellyroll pan with buttered parchment paper. In a small saucepan, stir together the sugar and 2 tablespoons water and bring to a boil. Cook over medium-high heat, without stirring (but if the liquid colors unevenly, swirl the pan gently from time to time to distribute the color), until the mixture turns a dark mahogany, about 7 to 8 minutes. The process will go very quickly in the last minute. Watch carefully and when done, immediately remove the pan from the heat.
2. Quickly add the nuts to the hot caramel, swirl to coat and pour the mixture onto the buttered parchment paper, using a rubber or silicon spatula to scrape the mixture from the pan and spread the nuts in as close to a single layer as you can. Set aside to cool. Immediately run the saucepan under hot water to clean. If the caramel has set, fill the pan with water and bring it to a boil to dissolve the caramel, and clean.
3. When the poured-out praline is hard -- it should look and feel like brown glass -- pull it off of the parchment and flip it over. Using a big spoon, a hammer, a wooden mallet, or some other pounding tool, smash it into half-inch chunks. Don't crush it any finer; the smaller pieces will dissolve into the ice cream.
4. Whisk together the pumpkin, heavy cream, brown sugar, sugar, nutmeg, cinnamon, ginger, cloves and salt in a medium bowl until smooth.
5. Freeze the mixture in an ice cream maker, according to manufacturer's instructions. When it's almost frozen, add the praline pieces and continue freezing. Spoon the mixture into a container, seal tightly and freeze for at least 1 hour to allow the flavors to ripen. Let soften 5 to 10 minutes at room temperature before serving.
Each of 8 servings: 409 calories; 3 grams protein; 29 grams carbohydrates; 3 grams fiber; 33 grams fat; 15 grams saturated fat; 82 mg. cholesterol; 45 mg. sodium.
---