Why it took so long for Compton to get its own movie theater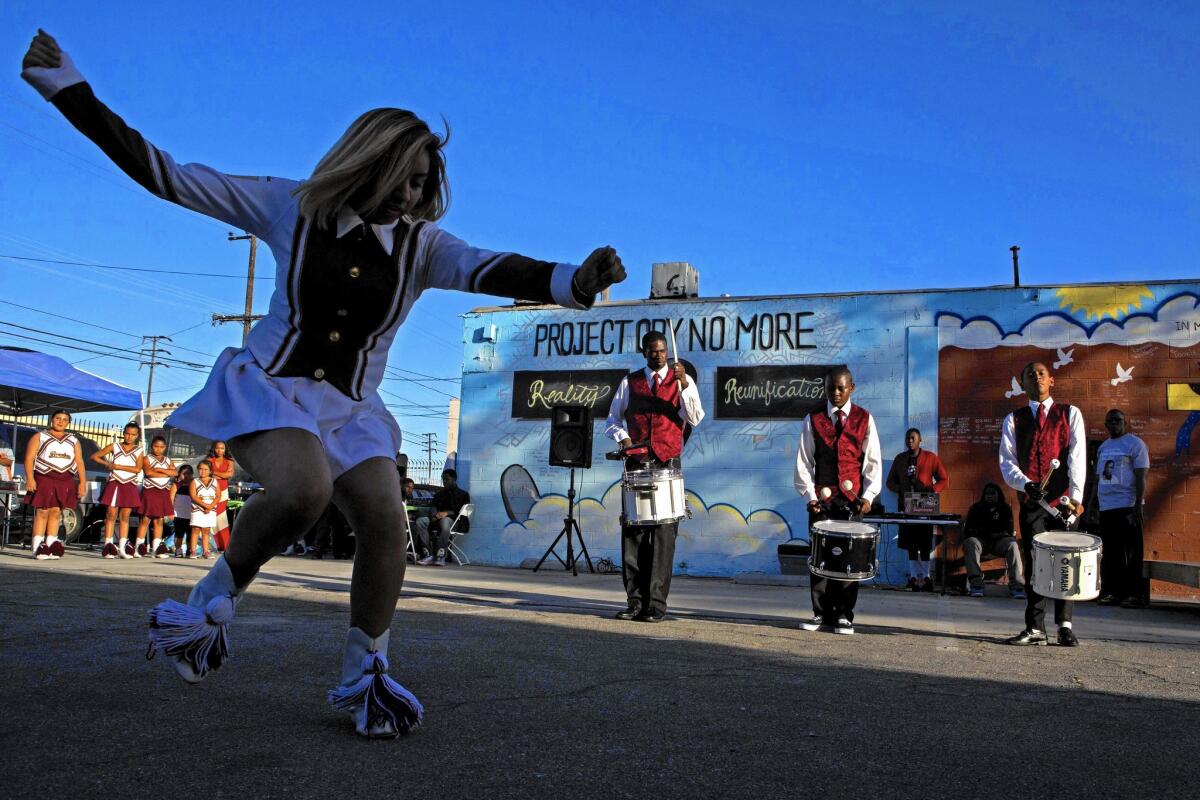 Compton native Wade Simpson, 18, sometimes goes to the cinema once a week to see the latest comedies or horror films, but he has to travel at least 30 minutes to a movie theater in Paramount or Baldwin Hills.
That could soon change. Simpson smiled when he heard about plans to finally build a movie theater near a Compton hotel.
"I think it's a good thing," he said. "That's something people would like to do. There's really nothing out here — we have the basic stores, but no movie theater."
See more of Entertainment's top stories on Facebook >>
Compton city officials have proposed the construction of a 14-screen, 60,000-square-foot movie theater as part of a larger entertainment complex for the area historically neglected by the film industry. Los Angeles-based Maya Cinemas, which specializes in theaters in predominantly Latino communities, will finance, build and operate the multiplex, city officials said.
If it is built, the theater would be the first in decades to stand within the city limits of Compton, the population of which is mostly Latino and black.
The proposed project comes at the height of controversy surrounding issues of diversity and representation in Hollywood, with movie studios coming under growing pressure to better serve non-white audiences. The issue most recently came to a head when the Academy of Motion Picture Arts and Sciences picked only white acting Oscar nominees for the second straight year.
There's really nothing out here -- we have the basic stores, but no movie theater.
— Compton native Wade Simpson
Cities like Compton, which suffers from high unemployment, have long been a blind spot for the major theater chains. Patrick Corcoran, spokesman for the National Assn. of Theatre Owners, said that could change as companies respond to an increasingly diverse moviegoing public.
"As our audience demographics shift and grow, I think you will see more builds in new underserved areas," Corcoran said. "Each individual company will make its own decision about where and when to open a theater."
The city's lack of a movie theater came under a spotlight last year during the release of the hit film "Straight Outta Compton," which tells the story of the provocative, pioneering hip-hop group N.W.A. The film generated $200 million in ticket sales worldwide, but Compton residents had to travel to neighboring towns to see it in theaters. N.W.A founders Dr. Dre and Ice Cube are credited as producers on the film.
Dre has promised to help finance a performing arts center in the same location as the planned theater.
Manuel Pastor, a sociology professor at USC, said the entertainment industry is beginning to wake up to the business opportunity of better serving areas such as Compton. According to the Motion Picture Assn. of America, Hispanics accounted for 23% of movie tickets sold in 2014, but only 17% of the total U.S. population.
"It's an exciting development," Pastor said. "There's tremendous opportunity in Compton. When you look at the numbers of people who still go to the movies, black and Latino moviegoers are overrepresented."
The movie theater is part of a broader push to invest in cultural resources for the community, according to a city document that laid out the basics of the plan. This week, Compton's City Council voted to move forward on the development.
The proposed project includes a new 75,000-square-foot performing arts center with a performance stage, a dance studio, a recording studio and areas for young people to exercise and do homework. Also included is a two-story hall to host the city's bingo games, community events and casino operations.
If anything, they're trying to make our neighborhood better.
— Evelyn Victorio
According to the document, the project would be at the site of a now under-used parking lot next to the LA Crystal Hotel on Artesia Boulevard and would cost an estimated $35 million, including construction and buying land.
The city is negotiating to buy the land and expects to make the purchase in the next two months. Officials estimate the project will take less than three years to complete. A representative for Maya Cinemas could not be reached for comment.
"This development will not only create a much needed entertainment destination for Compton residents, but it will also create jobs and stimulate the economic growth in the City," Compton Mayor Aja Brown said in a statement.
Compton has a rich cultural history, recently producing entertainers such as Grammy-winning rapper Kendrick Lamar.
Though the project is in the very early stages, the performing arts center has already gained the support of a local high-profile backer: music mogul Andre Young, better known as Dr. Dre. The rapper, producer and Beats Electronics founder has promised to contribute royalties from his latest album, "Compton," to help maintain the facility.
A representative for Dre did not respond to a request for comment. In an August interview with deejay Zane Lowe on the online radio station Beats 1, Dre said he had spoken with Brown about ways to give back to his hometown.
"I've been really trying to do something special for Compton and just couldn't quite figure out what it was," he told Lowe. "She actually had this idea and she was already in the process of working on it. I said, 'Boom, this is what we should do.'"
Former Los Angeles Lakers star Earvin "Magic" Johnson has previously advocated for more entertainment options in largely black communities.
In the mid-1990s, his cinema venture Magic Johnson Theatres became a Baldwin Hills success story for the athlete-turned entrepreneur. But he sold the company in 2004, and the Magic Johnson Crenshaw 15 multiplex closed in 2010. It was renovated and reopened the following year by theater operator Rave Motion Pictures.
Some Compton residents expressed support for a new Compton theater. Cointina Jones, 57, who plays pool at the Crystal Hotel, said a theater nearby would encourage her to go to the movies more often.
"That area is nice," Jones said, describing the location. "That's only five minutes from my house. It would be perfect."
But not everyone said they would go to a theater in Compton.
Evelyn Victorio, 25, said she would continue to see movies in Paramount or in the South Bay, expressing reservations about the neighborhood. She currently goes to the movies two or three times a month.
However, she said she thought it would be good for the city.
"If anything, they're trying to make our neighborhood better," Victorio said.
ALSO
Amazon's bookstore buzz hits San Diego
Lazarus: As the sharing economy grows, so do the scam attempts
Entrepreneur inspired by video game competition is launching Global Poker League