John Williams: Five underrated scores by the AFI-honored composer
John Williams is one of the few movie composers who is also a household name. His body of work encompasses "Star Wars," the "Superman" movies, the "Harry Potter" franchise and nearly the complete Steven Spielberg filmography, including "E.T.," the "Indiana Jones" series and "Schindler's List."
But one of Hollywood's great populist composers has a lesser-known side that qualifies as moody, edgy and sometimes even eccentric.
It's a side of the 84-year-old maestro that hasn't received much attention in the outpouring of praise coinciding with his AFI Life Achievement Award Gala Tribute, which took place June 9 at the Dolby Theatre in Hollywood and airs Wednesday evening on TNT.
See the most-read stories in Entertainment this hour >>
While not necessarily B-side Williams, these scores show the composer working in a different register than his blockbuster side:
Images (1972, director Robert Altman)
Even by the iconoclastic standards of Robert Altman, this chronicle of a woman's psychological breakdown is offbeat and sometimes off-putting, marked by odd narrative rhythms and surrealistic plot twists. Williams' score is similarly unconventional, taking its cue from ominous wind-chimes while flirting with atonality and dissonance. The soundtrack features sporadic eruptions of Japanese percussion, created by the celebrated avant-garde composer Stomu Yamashta.
Family Plot (1976, director Alfred Hitchcock) / The Fury (1978, director Brian De Palma)
Williams collaborated in short succession with Alfred Hitchcock and then the director's self-appointed heir, Brian De Palma. Williams' music for "Family Plot" — Hitchcock's last movie — pays homage to the lush symphonic sounds of old Hollywood, while also evoking the featherweight playfulness of the plot. According to Williams, he questioned at one point Hitchcock's demand for a lighter musical touch, only to have the director reply: "Mr. Williams, murder can be fun." For "The Fury," Williams created a dark, brooding score to accompany the story of a young woman wrestling with her psychic powers. As recounted in "A Musical Biography of John Williams," De Palma asked the composer to channel Bernard Herrmann, who was Hitchcock's preferred composer before they fell out over "Torn Curtain."
Presumed Innocent (1990, director Alan Pakula)
This adaptation of the Scott Turow legal bestseller is understated and hushed in tone. Williams' score similarly eschews sensationalism, for the most part relying on a subtle, almost sorrowful piano motif to telegraph the story's growing layers of ambiguity, culminating with the movie's twist ending. If Williams has often composed music that trumpets its own presence, here he has composed a soundtrack that recedes into the background and is barely there.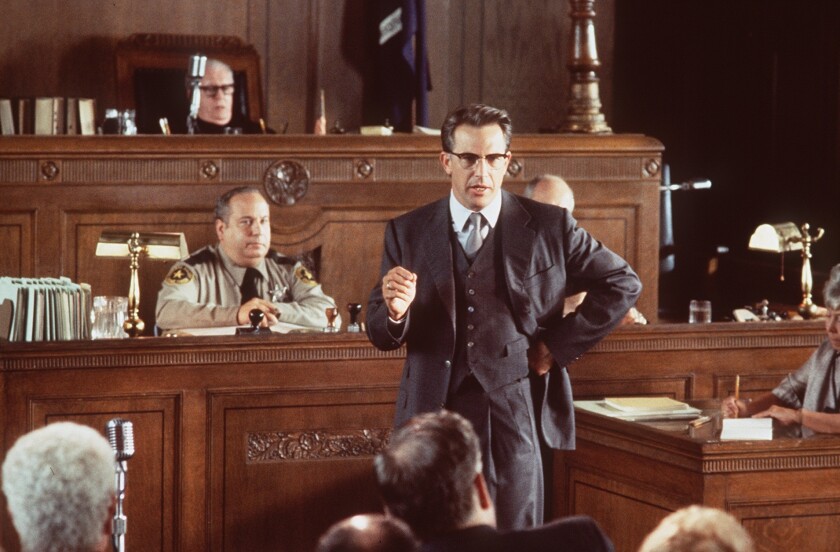 JFK (1991, director Oliver Stone)
The music for Oliver Stone's polarizing magnum opus on the John F. Kennedy assassination is arguably one of Williams' most sweeping soundtracks. It features soaring orchestral passages that sound almost Spielberg-ian in their wholesome patriotism, only to be followed by some of the most sinister compositions of Williams' career. Among the darkest moments: the 10-minute sequence in which Jim Garrison (Kevin Costner) meets secretly with an anonymous former military official (Donald Sutherland). Williams scores the scene's extended monologue with a succession of anxious percussion beats and uneasy chords that together sound like pure musical paranoia.
MORE FROM ENTERTAINMENT
The (sort-of) regrets of Gil Garcetti: 'O.J.: Made in America's' reluctant star witness
Fitness guru Richard Simmons: 'I am not transitioning' into a woman
---