Rio samba school bucks tradition with male flag-bearer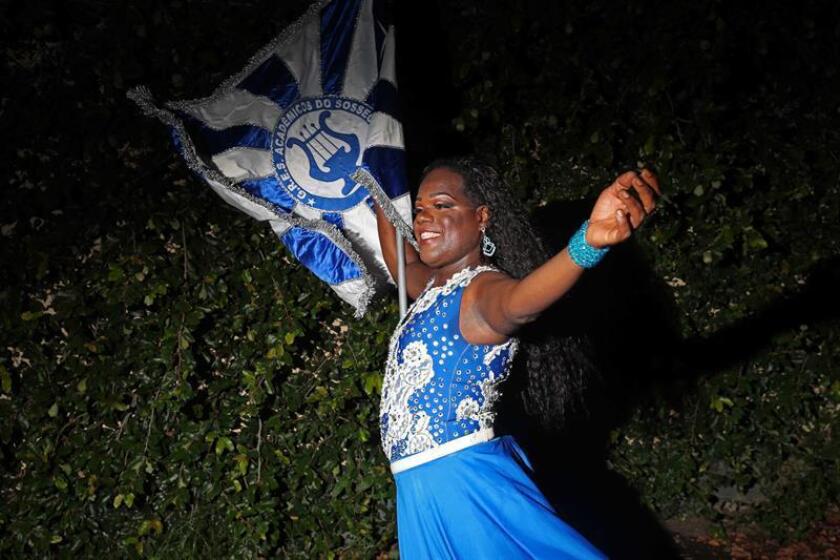 EFE
Rio de Janeiro —
Challenging a decades-old custom, samba school Academicos do Sossego has selected a man instead of a woman to act as flag-bearer when the troupe parades through the Rio de Janeiro sambadrome for this year's Carnival.
Anderson Morango acknowledged to EFE that not everybody in the fiercely traditional world of the Rio Carnival is happy about Sossego's decision.
Until the 1940s, the samba processions were a men-only affair, but in the modern era, only once before this year has there been a male flag-bearer.
In 2014, famous choreographer Carlinhos de Jesus played the role in the guise of Ubaldo, thought to be the first-ever flag-bearer in the history of Brazilian Carnival.
"I faced a lot of things, a lot of discrimination," Morango told EFE, crediting his inner strength and encouragement from friends and supporters for preventing him from turning down the flag-bearer role.
The tall, muscular Afro-Brazilian with a contagious smile says that he lives and breathes Carnival.
Now 38, Morango has been involved with Carnival for two decades, initially as the protege of Giovanna Justos, now the flag-bearer for samba school Sao Clemente.
He started by driving Justos to performances and assisting with her costumes and makeup. "He was never apart from me, he was my right hand. A young man full of energy," she recalls.
Over time, Morango went from being Justos' assistant to being a performer, filling the part of the mestre-sala: the man who accompanies the flag-bearer at the head of the procession.
"That's how I began. I didn't want just any role. I've always wanted to participate in the parades in leading roles," he says.
Destiny, along with Morango's grace, charisma and dancing prowess, has elevated him to the most important role.
The president of Academicos do Sossego, Wallace Palhares, offered Morango the role of flag-bearer last August, after seeing him dance in a street parade.
"I said to him, 'Are you're crazy! Everyone in Sapucai (the avenue that hosts the sambadrome) is going to be against you. You're going against an entire structure. The other flag-bearer won't accept me.' To which he responded 'this is my school and I'm the one in charge,'" Morango recounts.
For the parade, the openly gay Morango will wear a costume based on the rainbow flag of the LGBT community. His mestre-sala, Wladimir Bulhoes, will be clad as a soldier.
---