Mexican federal police forces close migrant shelter after riots at US border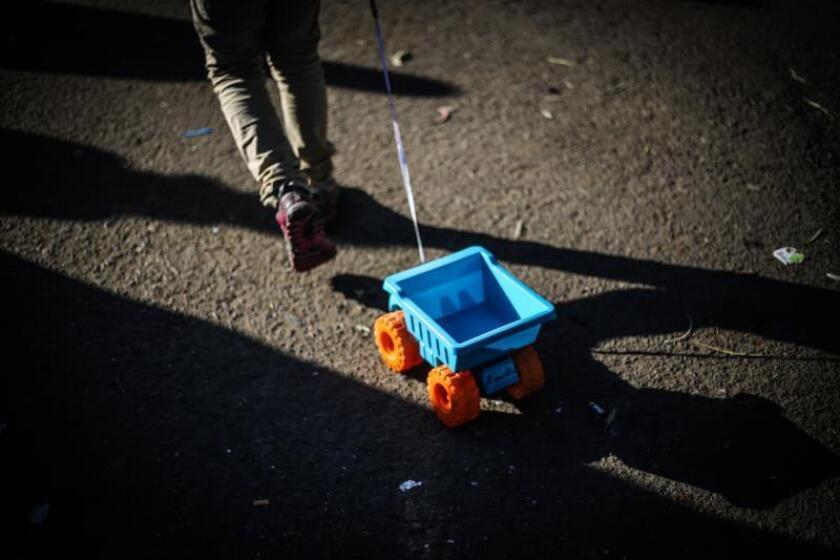 EFE
Tijuana —
Mexican federal police forces on Monday established a fence around the main shelter for migrants who have arrived in the border city of Tijuana, after Sunday's clash in which hundreds of Central Americans broke a police barrier trying to enter the United States.
The police officers arrived in at least a dozen buses with capacity for 50 passengers each and were deployed with riot gear in the neighborhood of the sports complex "Benito Juarez" which until Sunday night housed some 5,600 migrants.
Mexican federal police chief, Manelich Castilla, told reporters on Monday after a tour of the sports complex that the additional presence of the federal police in Tijuana is part of the precise orders given the day before by the Secretary of the Interior, Alfonso Navarrete.
He also added that this stage is about safeguarding the human rights of migrants without justifying, under any circumstance, the breakdown of order.
He said that the data regarding the exact number of police officers who have arrived cannot be disclosed at the moment, but that there was a significant reinforcement.
Meanwhile, some Central Americans have approached federal police officers and the Beta Group - a unit of the National Institute of Migration specialized in providing guidance and assistance to migrants - upon learning that there is an option for people who wish to return voluntarily to their countries of origin.
The federal police informed them that they would be transported to Tapachula, in the state of Chiapas, bordering with Guatemala, where they will be taken care of in a shelter and then transported back to their countries.
"I'm leaving because I see the situation getting more difficult each day. I do not have money or anyone who can pay for my food. More immigrants are coming in every day and for me this will turn into chaos," Honduran Heriberto Jimenez told EFE.
Central Americans are increasingly turning to this option given the reinforcement of security and the daily warnings of President Donald Trump, who on Monday urged Mexico to send the migrants trying to enter the United States back to their countries "by any means necessary."
The new warning comes a day after a group of migrants challenged the authorities by climbing the border wall separating Mexico and the United States. After breaking a police fence, they were greeted with tear gas deployed by US border police.
Following the incident, the Government of Mexico presented a diplomatic letter to the US Embassy asking for an investigation into the use of the tear gas, which reached Mexican territory.
The Mexican Foreign Ministry asked the US authorities to conduct a thorough investigation of the events in which non-lethal weapons were used from the United States towards Mexico.
---