Hundreds of passengers left waiting at Bolivian airport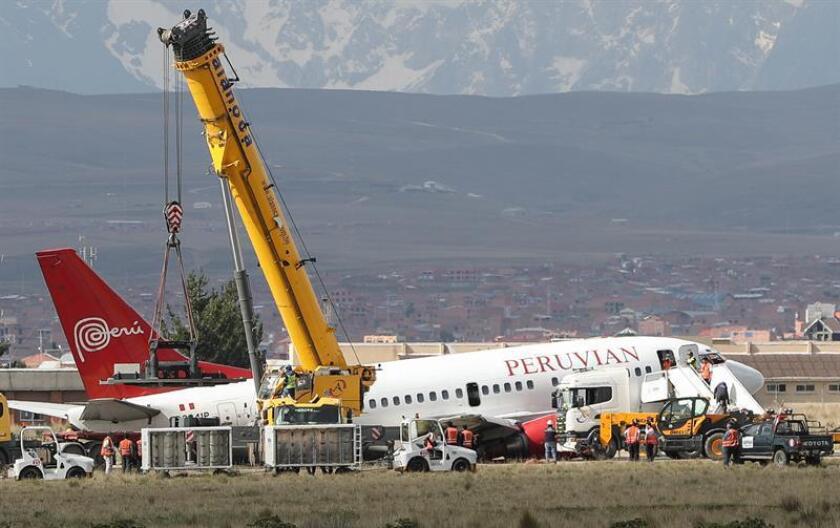 EFE
El Alto —
Hundreds of passengers were stranded on Thursday, waiting for the El Alto airport in Bolivia to resume normal domestic and international flights, which were delayed and canceled after an incident with an aircraft of the Peruvian Airlines.
El Alto airport, which serves the neighboring city of La Paz and is one of Bolivia's main airports, closed its runway after the incident at 10:22 local time when an aircraft of Peruvian Airlines landed.
According to the Bolivian state airport authorities (Sabsa), the runway will remain be closed until early afternoon, but as time went by more flights were canceled or were waiting for progress in the work of the cranes that lifted the stranded aircraft.
Blanca Contreras, one of the affected passengers, had to travel to the Bolivian city of Cochabamba in the morning on a BoA flight but her flight was delayed by at least six hours and she only had to wait for information to know if she should return on the next day.
"We have to wait until they tow the plane and reschedule the flights," she told EFE, tired of waiting at the El Alto terminal, an airport located about 4,000 meters above sea level.
According to a statement from the General Directorate of Civil Aeronautics of Bolivia, it was estimated that the airport would be closed until 20.00h local time.
Civil Aeronautics began an investigation into the accident after initially determining that it could be caused by "a problem in the landing gear" of the plane, which left from Lima and made a stopover in the city of Cuzco before arriving at El Alto.
The 122 passengers and five crew members were unharmed, although at the terminal one of the passengers said that he experienced moments of panic.
---