Migrant caravan approaching Guadalajara on northward trek to US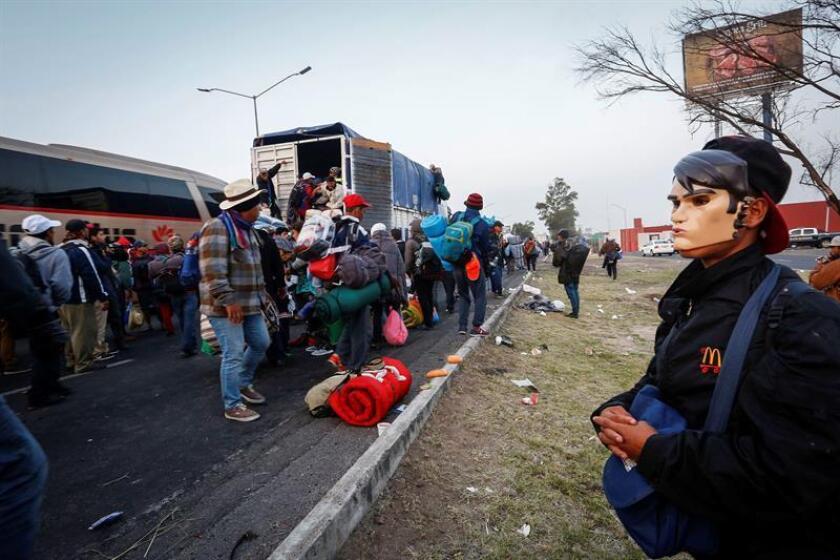 EFE
Mexico City —
The main body of the caravan of Central American migrants heading northwards through Mexico toward the US border on Monday was approaching Guadalajara, the capital of the western state of Jalisco, where a number of caravan members who struck out ahead of the group are awaiting them.
About 4,000 members of the massive exodus - most of them from Honduras - set out on Monday morning from Irapuato, in the central state of Guanajuato, and the majority of them are riding in various vehicles toward Guadalajara, some 252 kilometers (156 miles) away.
Another 1,000 or so people are presently already close to Guadalajara, one of Mexico's most important cities, and should arrive there in the coming hours.
"We were in the Benito Juarez auditorium, accompanying and supporting our sisters and brothers who are arriving in our state in the Migrant Caravan," said Jalisco Gov. Aristoteles Sandoval on Sunday on Twitter after visiting one of the shelters where about 100 migrants are already being housed.
This contingent had already arrived in the city of Tepic, in western Nayarit state, where they spent Sunday night sleeping in shelters set up by local authorities and they are expected to head to Mazatlan, in Sinaloa.
However, in Nayarit, local authorities could not provide medical attention or food to the migrants since the state, on the Pacific coast, was severely affected by the passage of Hurricane Willa in late October and calculations are that 180,000 local residents suffered property damage or left homeless.
Meanwhile, a second caravan, which arrived in Mexico a few days later and includes some 2,000 people, set out on Monday from Sayula, in the eastern state of Veracruz, intending to make it to San Juan de los Lagos, in the central state of Puebla.
Finally, two more caravans, made up largely of Salvadorans, are currently in southern and eastern Mexico.
These two groups have been fragmenting and some of the migrants are still near the border with Guatemala in Oaxaca state while others have advanced deeper into central Mexico, into Veracruz state.
Yet another group of caravan members belonging to the LGBT community arrived on Sunday in the city of Tijuana on the US border - the declared destination of virtually all the migrants in the massive movement of people.
On the weekend, the main contingent moved out of Mexico City, where they had been resting and recuperating for almost a week.
The first caravan left San Pedro Sula, Honduras, on Oct. 13, and later three other groups set out - a total of as many as 11,500 migrants who later crossed into Mexico.
Along the way, however, some of the migrants have given up their goal of getting to US soil and have requested refugee status in Mexico.
---