Sheriff: Shooter committed suicide after killing 12 at California bar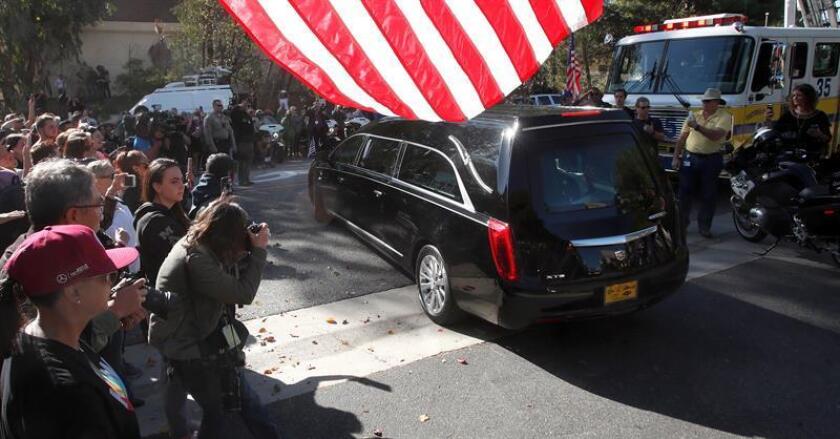 EFE
Los Angeles —
An ex-Marine killed 12 people, including a police officer, at a bar in Southern California before committing suicide when confronted by police, authorities said Thursday.
Twenty-five other people were injured in Wednesday night's shooting at the Borderline Bar & Grill in Thousand Oaks, California, Ventura County Sheriff Geoff Dean told reporters.
Witnesses said the hooded and black-clad assailant, identified as 28-year-old Ian David Long , fired shots at employees upon entering the establishment before shooting indiscriminately at the large crowd of customers inside.
He also reportedly threw numerous smoke grenades inside the country music bar, where hundreds had gathered for a university student night.
Twenty-three people sustained minor injuries, while two others were taken to area hospitals by ambulance, the Ventura County Fire Department said.
Dean said the dead included his "number two," Sgt. Ron Helus, who was hit by several bullets when he arrived on the scene in response to the initial emergency call.
Helus had been with the force for 29 years and had intended to retire in the coming year.
Dean said the shooter was an ex-Marine who may have been suffering from post-traumatic stress disorder and that he used a Glock 21 - a .45-caliber, semi-automatic handgun - in the attack.
The weapon had been purchased legally and was fitted with a high-capacity magazine that allows more rounds than usual to be fired before a shooter needs to reload.
The assailant's motives remain unclear, although the sheriff said Long's home in Newbury Park, Ventura County, where he had been living with his mother, was being searched for clues.
Dean said the suspected gunman had had problems with the law before but had not been charged with any serious crimes, adding that he had been listed as the victim in a bar fight three years ago.
The president of the United States on Thursday hailed police officers' bravery in confronting the gunman.
"Great bravery shown by police," Donald Trump wrote on Twitter. "California Highway Patrol was on scene within 3 minutes, with first officer to enter shot numerous times. That Sheriff's Sergeant died in the hospital. God bless all of the victims and families of the victims. Thank you to Law Enforcement."
Wednesday night's massacre was the worst mass shooting in the US since the tragedy in Parkland, Florida, nine months ago, when a former student killed 17 people at Marjory Stoneman Douglas High School.
The shooting at the Borderline Bar & Grill comes less than two weeks after 11 people were gunned down at a synagogue in Pittsburgh, Pennsylvania.
---